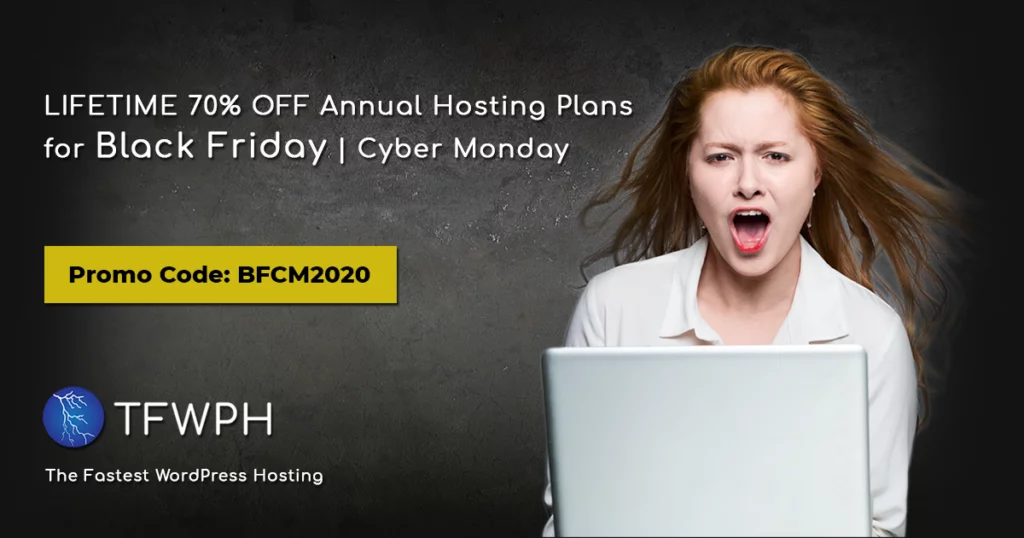 The ONLY Lifetime Black Friday + Cyber Monday 2020 | Managed WordPress Web Hosting Deal
Promo Code: BFCM2020
The code is good for the first 10 new clients.
Get yours before they're gone!"
Ever seen a WordPress hosting LIFETIME Black Friday deal? There are a million plans out there offering 50 to 70% off of web hosting for 2020 – but there's only 1 lifetime Black Friday / Cyber Monday 2020 deal on Managed WordPress Hosting.
They're all trying to get you in at a low price to start and then re-up your hosting for double or triple the price after an initial special signup pricing term ends.
Not this Black Friday deal. This deal goes on and on…
70% Off The Fastest Managed WordPress Hosting in 2020 For Life!
Pay as little as $8.70 per month for lightning fast, Managed WordPress Hosting.
This deal is exclusively for 10 newcomers who join us before November 30th. These bargain-basement prices will not last.
As of December 1st, it disappears.
Why Are You The Only Managed WordPress Host Offering A Lifetime Cyber Monday Deal?
We're new to the hosting game. That's why it says "BETA" on the logo up there.
With anything new, there are bound to be some issues. Our early adopters deserve a deal that lasts a lifetime to thank them for helping us to perfect all of our systems.
The 2020 Managed WordPress Hosting Black Friday | Cyber Monday Deal That Lasts a Lifetime
Premium WordPress Hosting at Cyber Monday Prices
In addition to delivering the fastest WordPress hosting, TFWPH provides super secure server-level security. This saves you from having to buy WP security plugins that will slow your site down.
We also have 24/7 support waiting for you. You can raise a ticket via our online support system or reach out via live chat or phone support as well.
We are there to help with all your WordPress web hosting issues.
Don't miss your chance at 2020's only lifetime deal on managed WordPress hosting for Black Friday | Cyber Monday.