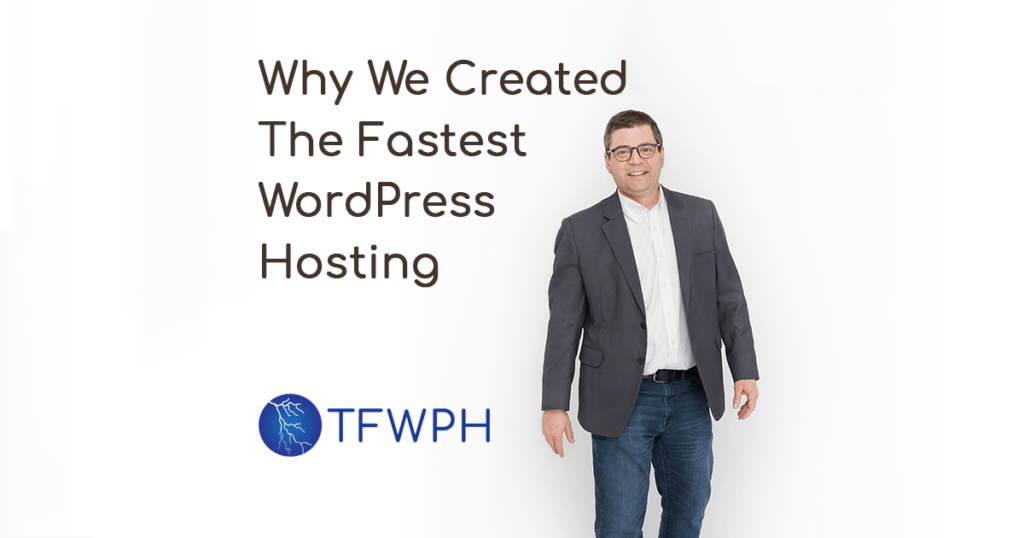 Why We Created The Fastest WordPress Hosting
Table of Contents
Who created TFWPH?
My name is Steve, and I'm an American who has lived in South Korea for 25 years. This has led to all kinds of unique opportunities.
First I learned Korean, then I taught Korean on TV and wrote a couple of books teaching Korean. Then I started a magazine for English speakers in Korea, and that led me to learn all about WordPress. Eventually, I started a digital marketing company here in South Korea.
Now you found me here at TFWPH, where I've made building the fastest WordPress hosting – my next unique project. Here's our story:
The Fastest WordPress Hosting's Initial Inspiration: Speed & Support
As you can see from the testimonials on the site, we've been hosting and maintaining client WordPress websites for years.
We were happily hosting on a popular "Managed Cloud Hosting Platform" until two things happened:
The server we were on crashed all of the sites we were hosting went down – for 16+ hours!
We asked them to let us use HTTP/3 & QUIC enabled web servers. They told us that they didn't have the infrastructure – and that they had no plans to update! Ever.
That's when we decided we should build our own lightning-fast cloud infrastructure.
The Integrated Hosting & Maintenance Advantage
We found plenty of hosting companies. We found plenty of WordPress site maintenance companies.
But we didn't find any companies that integrated hosting and maintenance. The idea that these services are completely unrelated is absurd. They are completely integrated. Proper maintenance of a WordPress website relies on quality hosting and great hosting doesn't help one bit if you don't maintain your WordPress website properly.
So what's with the separation of these services like church and state? Clients benefit immensely from vertically integrated hosting and maintenance and that allows us to charge less for each – and provide better quality of both! When clients have an issue, they open 1 ticket to get support for everything from server stack to backups to WordPress. Our speed and security are monitored from server to WP plugin.
Like peanut butter & chocolate, hosting & maintenance are just better together.
Introducing the TFWPH Buddy: Your Constant Contact
Another thing that has always driven us nuts about hosting support is that every time you talk to a different person. Sure, people can't work 24/7, but it sure would be nice if you didn't have to fill them in on your site and previous tickets every time.
That's why we created TFWPH Buddies. They will monitor every ticket you raise. They will make sure your problem was solved to your satisfaction. They will keep up with your problems and they will be your advocate inside TFWPH. They will always know what happened last time. If you have a recurring problem, they will help get to the bottom of it.
There's a department for tech support. For everything else, you have your TFWPH Buddy.
Recurring Affiliate Payouts on Hosting + Maintenance: 15% FOREVER
Most hosting companies pay 1-time payouts of $30 – $125 for a new client. Pretty good money.
But what encourages that affiliate to stay loyal? Why not recommend another product the next year to get the payout from another provider once again?
And none of them offered payouts on WordPress maintenance either. Because they didn't offer WordPress maintenance in the first place.
So we built our 15% FOREVER Affiliate Program so we never have to hire salespeople.
We want our affiliates to be WordPress designers, developers & agencies who want to give their clients the fastest, most secure hosting & maintenance and provide them with 24/7 client support. They get paid for giving their clients the best – and everyone wins.
Help Us Improve The Fastest WordPress Hosting
We're relatively new to this compared to the old boys – which is an advantage and a disadvantage. But we can catch up quickly with your help. Share what you love about the fastest WordPress hosting – and what bothers you. We will do everything to live up to your expectations. If we haven't, here's my email:
Stephen Revere
steve@tfwph.com
October 15th, 2020